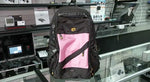 HOUSTON, Texas (KTRK) – As the number of school massacres across the nation has grown, some companies have taken steps to reinvent everyday items that students could use to protect themselvaes.

Enter: the bulletproof backpack.
Companies that make the backpack claim it will be able to stop various types of ammunition.
"I guess that's just the harsh reality of the world we live in today," said parent Nick Barnett.
Samantha MacPherson with Guard Dog Security told Eyewitness News they started making and selling the backpacks after the tragedy at Sandy Hook. She added that they have seen an increase in demand for the product since Parkland. It comes with a certification showing it was tested by an independent lab certified by the National Institute of Justice and that it withstood a total of 10 shots from just over eight feet from a .44 caliber and a 9-millimeter handgun – without penetration.
"Being how close they were to it and it's just no penetration, it's just really amazing. It really would make somebody feel very secure," said Tonnie Coleman at Central Spy Shop in northwest Houston.