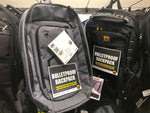 Aug 13, 2019 - 
Companies that manufacture bulletproof backpacks say they've seen a spike in sales following three recent mass shootings around the country.
The sales come as parents, riddled with anxiety about the possibility that their own children will find their school under attack, and with little hope for meaningful gun control from politicians, are looking for anything they can do to increase their chances of surviving.
Guard Dog Security said "they saw a significant uptick in the aftermath of mass shootings" according to CNN. 
See the full article here https://www.theguardian.com/us-news/2019/aug/12/bulletproof-backpacks-mass-shootings-sales-spike